The KarKaddy SS Tow Dolly
Let's set the picture. There you are, with nothing but open road ahead and a reservation tonight at the local RV park. You and your family are enjoying the day inside your recreational vehicle, and the small car you have in tow will be ready to help you pick up supplies and run other errands when you arrive. But when you finally do arrive and take your car off the trailer, you realize you've got a problem. Your lot isn't big enough for your RV, your car and your trailer, and now you've got to decide how to juggle it all, which could quickly become a nightmare if you're scheduled to stay more than a few days.
With the Demco KarKaddy SS tow dolly, you don't have to worry. Fully extended, it's a normal, 133 inches long tow dolly. When it's hitched up, you won't notice a thing -- it drives and stabilizes like a no other tow dolly. Folded, however, it's only 67 inches long, which is great when you need a little more space in an already cramped lot.
Financing Available With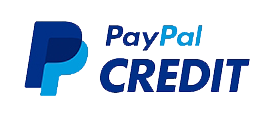 Why Choose the KarKaddy SS Tow Dolly

As the perfect solution for smaller RV parks and campgrounds with limited space, the KarKaddy SS tow dolly has all the features you'd expect from a reliable tow dolly, such as a hydraulic surge brake system for safe and controlled stopping, as well as disc brakes, yet not a single compromise -- you still get the same Demco strength and utility you'd expect from a Demco product. Chrome wheels with radial tires and dual safety chains also come standard, as do sealed bearing hubs with a 3-year unlimited warranty and no need to ever again have to pack the bearings!
One of the most popular features of the KarKaddy SS among long-time RVers is the steerable axle. Gone are the days of having to swing out to miss a curb or get into a gas station. With Demco's steerable axle the dolly tracks exactly behind your motorhome leaving you worry-free when in those tight spots.
When loaded, the KarKaddy SS tow dolly has less than a 100 lbs. tongue weight, which greatly improves handling and ride while attached. The KarKaddy SS can tow vehicles up to 4,800 lbs., and it has an axle capacity of 3,500 lbs. Accepting vehicles with outside tread width between 42" and 76", the KarKaddy SS comes in a galvanized finish for extra toughness on the road, and an EZLatch coupler makes latching and unlatching your load something you barely even need to think about.
For more about the KarKaddy SS tow dolly, including whether it's right for you, please contact Demco or your local distributor.